Lounge Dress Code
Dressing to go out to a lounge differs from dressing for a nightclub in a few key ways.  You're much less likely to be dancing, so body heat doesn't have to be a primary factor in your clothing choices, and you can get away with shoes that are more beautiful than they are comfortable.  And the atmosphere is at once a little more relaxed and a little more polished.
For the ladies
Think classy and dressy for a night out at a lounge.  This would be a good time for a slinky-but-upscale dress, or an elegant skirt and top.  Keep in mind that you may be sitting on a couch, so make sure your hemline isn't too short.  Pick out some drapey jewelry and fun heels, and bring along a nice clutch.  Your jewelry can be fun but a bit less flashy than what you might wear to a club.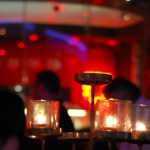 For the guys
A lounge would be a great place to wear a jacket with no tie.  A dress shirt with nice pants would work too, or possibly jeans if the town and establishment are both very casual.  Definitely wear dress shoes, and don't wear a hat.  Be aware that some lounges won't let you in with athletic shoes on.
Rules of Thumb
Check out the lounge in advance to get a feel for its vibe; some post dress code specifics on their websites.
Find out whether the lounge has a coat check, and decide whether or not it's worth it to bring your coat along if they don't.
Don't wear anything you'd wear to a pubby bar, such as a hoodie, jersey, or tank top.
Ladies: do your makeup for evening, but look polished rather than too adventurous.  For example, you may want to steer toward grey or bronze for eyeshadow rather than purple or green.
Once you've chosen your outfit, try it out while sitting on a couch, so you can make sure it doesn't fall awkwardly if you're getting swallowed up by a sofa.